Прочитать позже
10 ideas on how to use the Falcon Service platform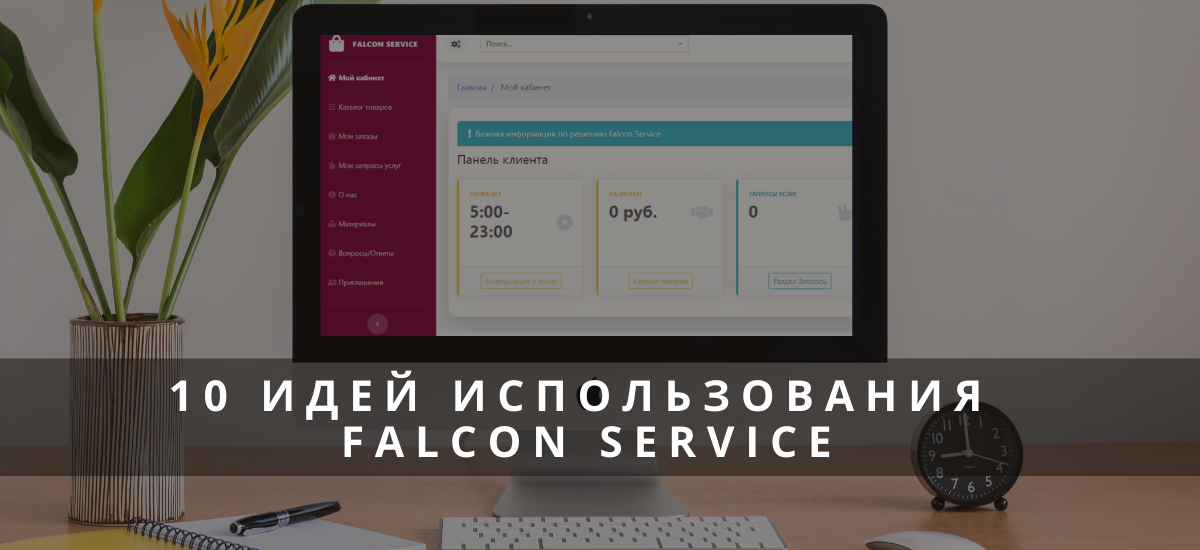 In this article, we will not review the capabilities of a ready-made solution, but focus on how you can use a ready-made solution in practice. Read, be inspired and apply. 
What to do when there is a need to create a website with users' personal accounts? This task may arise for an entrepreneur at the stage of starting a business, and when expanding an existing one.
The ready-made Falcon Service solution is based on a system of personal accounts with the ability to collect orders and process them. It will be a good addition for the work of a production company, for a network business, as well as at the stage when the partners decided to open a business. A flexible system of customization of business logic for a specific project allows you to take into account the specifics of the business, the conditions for executing a certain algorithm and configure a ready-made platform for a particular business.
In this article, we will not review the capabilities of a ready-made solution, but focus on how you can use a ready-made solution in practice. Read, be inspired and apply.
Order collection system
Functional of Falcon Service ready-made solution designed to create a customer service. When a customer makes an order through his personal account, information about him immediately goes to the personal account of the point manager, where he already processes the orders received and starts working on them. This allows you to adapt the functionality of a ready-made solution to a variety of fields of activity.
In Falcon Service you can lay the logic of the distribution of orders for your project, configure the necessary algorithms.
1. Utilities sector, management company
Many management companies have their own website, but the convenience of applying through them for the services of housing and communal services specialists leaves much to be desired. At the most crucial moment, it is impossible to get through to the management company, specialists are busy, so you have to look for masters on the side, and this is time and additional costs. Creating an application from a personal account installed on the phone screen would greatly facilitate the lives of residents and save a lot of nerve cells of employees of the management company.
Another aspect of the work of the Management Company with Falcon Service is the ability to quickly transfer tasks to the masters on the road. The rapid response of the nearest brigade to emergency situations in subordinate homes would improve the quality of service, reduce response time and costs for the elimination of consequences.
More information about utilities sector personal customer account
2. Delivery of goods from several stores
Ordering products and their delivery is in demand today, especially in large chains. A separate service of a home assistant, which can be sent shopping not to one store, but to several different ones, would close the problem with the assortment of one nearby store. Accepting such orders, distributing them between couriers and promptly communicating with the customer through the application would greatly simplify the life of both the order collector and the client himself. By the way, in the field of social services, such a system would also be convenient and relevant.
3. Dry cleaning service
The system of online orders for dry cleaning, when an employee himself takes things for cleaning and brings them himself at the agreed time, would greatly save time and nerves of people who spend more time at work than they would like. They wouldn't have to spend half a day on a weekend looking for dry cleaning, the way there and back. Thanks to the ability to create an unlimited number of roles and customizable business logic, you can configure the full cycle of the process from receiving and processing an order to its complete completion, when the courier delivers clean items to the customer.
4. Repair of computers and other equipment
For companies that repair computers or other equipment on the road, automation of receiving and maintaining an order is especially relevant. This can be realized not only by collecting orders, but also by setting up the transfer of orders to point managers on a territorial basis. The supervisor is the site administrator, can monitor user activity schedules and compile reports both for the month and for the selected period.
Customer personal account
Falcon Service involves the creation of a website with users' personal accounts. A personal account of a private client in any field is a step towards creating a client service.
5. Beauty salon
The personal account of a beauty salon client may contain information about personal discounts, the ability to choose the day and time for recording and the master, clarify preferences and features, contain information about previous visits. If desired, you can set up payment for services directly from the application and provide services with a home visit.
6. Cosmetology
If we talk about the personal account of a client of a cosmetology office or salon, then, on the one hand, it can be like a personal client card that a cosmetologist will see, and on the other - a marketing tool that gives discounts, personal discount coupons and other privileges. You can also set up reminders about the need for scheduled procedures, suggest recommended procedures taking into account the characteristics of the patient. All this set of measures can increase visits and receipts by 20% — 70%.
The organization of private offices for private specialists within the same building will also be convenient for the administration to manage processes, reporting, rent and, possibly, traffic attraction.
More information about Development of a beauty sphere service
When did the partners decide to open a business
When several partners combine business, there are several points of a single business and often they are located not only in different districts of the city, but in the region and in different cities. Creating a website with personal accounts for point managers and for network customers may be a good solution.
7. Franchise
Franchising — a special type of business that can be combined using a common website with personal accounts. Retail outlets can have their own landing page to attract customers, but at the same time they are connected to the network with the franchisor and other branches. The ability to integrate other applications via the API expands the functionality. At the same time, customers through their personal account can have access to goods and services and receive discount coupons for use in one or all retail outlets.
For a franchisor, such an organization significantly simplifies work with analytics and reporting, interaction with franchisees.
Online ordering system
Falcon Service has the ability to configure business logic and algorithms for collecting and distributing orders. For example, if a point is assigned to a certain manager, then you can configure that all orders are transferred only to him, or you can develop an algorithm with conditions so that orders are distributed among free masters automatically.
8. Outside job
When a client visits the site, he wants to solve his problem. By ordering a master through his personal account, he expects to receive the service quickly and efficiently. When the masters have access to orders even outside the office, they can choose the closest and most acceptable order for themselves. With Falcon Service it is possible to configure.
9. Catering
Organizing high-quality catering is quite a difficult task. But when there are orders with dishes and locations hanging in the program — the task becomes more feasible. It is important that there is an Internet connection and a portable gadget.
Program for a production company
10. B2B orders - program for a production company
You can install a customized Falcon Service on the company's server. In this case, it will not be a website, but a program with a system of personal accounts. It can be used by a production program whose clients are legal entities. Collecting orders for production in the B2B sector can simplify the process of interacting with customers, automate the process of collecting applications and planning work, avoiding overlaps.
Conclusion
The main advantage of Falcon Service — are flexible settings for the project. You buy a ready-made solution in which you can prescribe the desired algorithms and business logic necessary for convenient operation when setting up. As the project develops, they can be changed. All this opens up prospects for use in any project where there is a need to create a system of personal accounts.
More information about features of the Falcon Service solution
Насколько полезной была статья?
How do I know the budget / timeline for my project?
1. Create a project concept
2. Send us your concept paper
3. We will prepare a commercial proposal with details by modules
Falcon Space Platform
This is a reduction in the cost of ownership
at the expense of fewer people to support
This is a quick change
while using the program
This is a modern interface
full adaptation for mobile devices
Component demo stand
At the stand you can see various components in action - tables, forms, modal windows, diagrams, a map, etc.
Solution demo site
Basic solutions that can be flexibly adapted for yourself - change the appearance, business logic and even the structure of the database.
Discuss the project
Ask the initial questions about the project that concern you right now. We will advise you for free and recommend the best solution.
If you like our articles, then please subscribe to our channel in Telegram - Falcon Space.
In it we will publish updates on articles and other materials regarding our platform.